[Event] Just Don't Get HitEvent
2023-04-27 10:00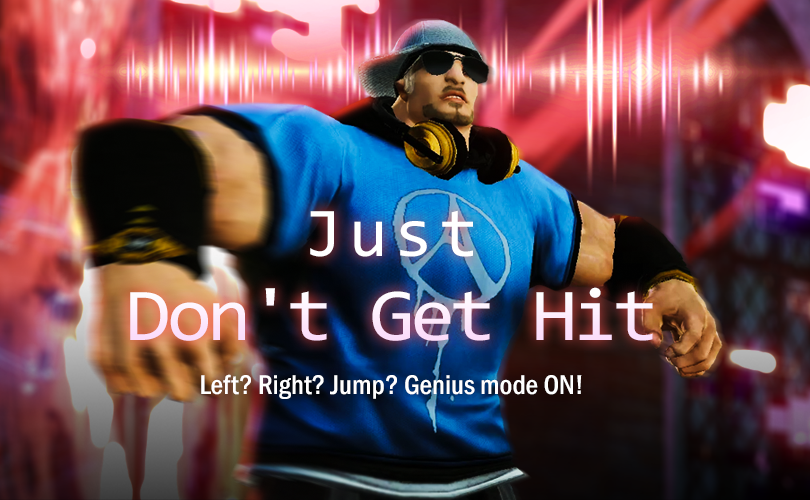 Event Schedule
---
Period:After April 27, 2023 Maintenance~Before May 18, 2023 Maintenance.

How to Participate

---
Can apply for entry through I

nstance>Arena

(Shortcut:Shift+;).
Section
Details
Type
Instance>Arena
Entry Period

Everyday within 10:00~23:50

Level Limit
Over LV. 55
Entry Number
6 players

Playing Time

Ends 8 min. after the arena begins.
(Actual playing time:5~6min.)
Event Details
---
Apply for 'Just Don't Get Hit' within 10:00 ~ 23:50 every day through Instance > Arena (For players over LV. 55).

5 participation points are activated above every character's head.
Order
Summary
Details
1
Can proceed with voting the game difficulty for 30 sec.

About 30 sec. of wait time occurs after entering.
The game begins right away when more than 4 out of 6 votes total are centered towards a certain difficulty.

2
Various obstacles come according to the difficulty.

Survive until the end by avoiding the obstacles coming from DJ Shout.

3
Automatically moves to stands when touching the obstacles more than 5 times.

1 participation point is deducted when touching the obstacle every time, and moves to stands right away when it reaches 0.
Players moved to stands can receive the reward by waiting until the end, or leaving the arena right away through the exit.
Players moved to stands cannot participate in the game anymore, but can still chat.

Quest Reward
---
① Accept and complete the quest from
DJ Shout after the obstacle game ends.

Image
Reward Name
Details
Reward Chest Key
Can use Mode Reward Chest Key to open the Evader Coins Reward Chest
received by the Reward Manager.
② 
Evader Coins Reward Chest is given in order according to the challenge mode and remaining points when interacting with the Reward Manager.

Cannot receive

Reward Chest when the chest is already in the inventory.

Can exit the instance without receiving the reward and retry if the result was unsatisfactory.
Cannot obtain the reward on retry when the

Reward Chest

is already received, but can obtain it again when the reward chest is destroyed.
| | | | |
| --- | --- | --- | --- |
| Survive Until the End | Remaining Participation Points | Coin Reward(Hard) | Coin Reward(Easy) |
| O | 5 | 30 | 26 |
| O | 4 | 28 | 24 |
| O | 3 | 26 | 22 |
| O | 2 | 24 | 20 |
| O | 1 | 22 | 18 |
| X | X | 15 | 14 |
TIP
---
A total of 3 obstacles 'Electric Ray, Barrier, Cylinder' appear, and 1 point is deducted when the character meets the obstacle.
Practice opportunities are given where points are not deducted for every pattern when selecting easy mode. (Practice is not given for hard mode)
Obstacles with fast speed appear from the beginning on hard mode, and complex patterns stay for a long time along with 3 obstacle types that come in mixed structure.
Type
Details
Electric Ray
Can avoid the ray coming by jumping.
Can easily avoid jumping beforehand when the ray's speed becomes faster.
Electric Barrier
Can avoid by moving the character to the empty space among barriers.
Can easily avoid when figuring out the next barrier location while avoiding.
Electric Cylinder
Can avoid by using Duck! (shortcut auto-changes) Skill when the cylinder on air comes.
Can control the character and jump even on duck status.
Event Rewards
---
Evader Coin can be exchanged with rewards below from Evader Coin Exchanger located at each faction base.

Image
Item Name
Quantity
Amount of Token needed
Bind Type
Arkana Wings: Diamond (

Link

)

1
200
Bound
Carnival Mask Crate
1
70
Bound
Eternal Cherry Sapling (

Link

)
1
60
Bound
Wrapped Meeting Room Furniture Pack (

Link

)

1
180
Bound
Morpheus Globe (

Link)

1
100
Tradable
Bound Serendipity Stone
1
60
Bound
Bound Resplendent Tempering Crate
1
50
Bound
Auroran Synthesis Stone Crate
1
30
Bound
Honorforged Medal
1
8
Bound
Luna Charm Rank 1
1
6
Bound
Decrystallization Scroll
1
10
Bound
Hiram Awakening Scroll
10
5
Bound
Radiant Hiram Awakening Scroll
5
5
Bound
Brilliant Hiram Awakening Scroll
3
5
Bound
Bound Labor Recharger
1
12
Bound
Radiant Infusion Supply Kit
5
5
Bound
Achievements
---
Check the hidden achievements and title rewards below.
Achievement Name
Details
Image
Reward Name
Obstacle Dodger

Participate in the event eagerly
to complete the hidden achievements.
Title:Pounding Heart
Close Call
Evader Coin (x30)
Dodged 'Em All
Title:Easy Cheesy
I Can Dodge Bullets
Title:Just Don't Get Hit
Too Easy
Title:Slow-mo
Luck & Skills
Arkana Wings: Clover (

Link)
Notes
---
Characters over LV. 55 can only participate in the instance entry and event daily quest, and is reset every day at 0:00.
All buff and debuff effects will be removed on instance entry, and will not be also returned on exit.
Summons cannot be called inside the instance, and all skills excluding the event skill cannot be used.
Rewards will not be given on Away status at the Instance.
Evader Coin and Evader Coin Exchanger will disappear on May 25, 2023 Maintenance.
All event items will not be restored.